Press Release: APRIL 2017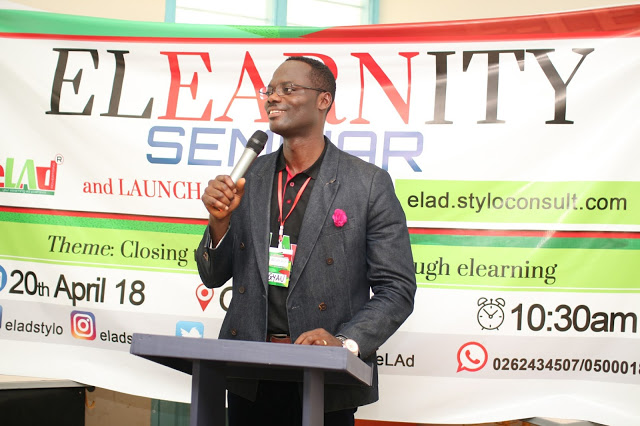 The Maiden Elearnity Seminar was successfully launched on Friday 20th of April 2018, at the Ghana Institute of Journalism, Accra, with the theme "Closing the digital Divide through E-learning". This seminar was organised by Mr. Yaw Odame Gyau and the Estylo club, where he introduced the Brand name "Mr. Elad". Mr. Elad, explained that Elad was derived from two words;
Elearning and Advertising.
He emphasized the need for studying advertising electronically since Elearning is fast becoming the learning pedagogy of the future. Resource persons include Doctor Hilla Addo, the Pro-Vice, for Lucas College, and Mr. Sylvester Hatsu, Snr. Lecturer and H.O.D of I.C.T department, Accra Technical University, Mr. Yaw Odame Gyau; Snr. lecturer, Advertising, Ghana Institute of Journalism and Nana Oppong Mensah a representative of Google and Co-founder of Wineloya Digital Advertising delivered lectures on E-learning.
Dr. Hilla Addo spoke about Bridging the digital divide between Academia and Industry: The case of Lucas college. Mr. Yaw Odame Gyau also delivered a lecture about the need for elearning tools to be integrated into main stream education in tertiary communication universities. Mr. Sylvester Hatsu spoke about Hacking Humans: Social engineering and how to protect against them and Nana Oppong; spoke on "Google Digital Skills". The programme was also used to launch the Estylo club as an official Elearning club on Campus and also the unveiling of the Elad, Elearnity, SMART MODELS and Estylo logos
Estylo is the E-learning club on campus, Elearnity is the seminars that will be organizing periodically, Elad is our working hub where communication and media courses will be taking place and the SMART MODELS is how Apps will be used to solve communication problems the smart way.
Join our Seminars, Join our e-learning club and visit our website eladhub.com
Take our lessons, drop your comments and share with other learners.
Find us on FB…eladhub      Twitter….@eladstylo   Instagram…..eladstylo   Youtube….estylo elad